4 Popular French Fragrances and their Origins!
It may seem like common "scents," but many people are not aware of the origins of these 4 popular French fragrances: Chanel No. 5, Sauvage by Dior, Prada Eau de Perfume and Parisienne. Whether you have heard of them, know a friend or family member who wears one, or if you are guilty of wearing one yourself; these perfumes are simply classics, and originated in the backyard of the French countryside.
Nestled into the hills along the French Riviera lies Grasse, France--the perfume capital of the world. Due to the town's micro-climate and geography, flower farming has been a great success for centuries, producing lavender and other flowers known for their wonderful scents. This naturally led to the eventual success of the perfuming industry after the discovery of organic synthesis (the process of turning scents into fragrances) in the 18th century. Les Nez, or "noses," from all around the world have curbed their senses in Grasse to distinguish between over 2,000 kinds of scents, or simply to tour the perfumeries for a "scents" of the town's history.
To this day, Grasse produces over 2/3 of all of France's natural aromas. The majority of French fragrances found their origins in Grasse, including the notorious Chanel No. 5, and other perfumes listed below:
Chanel No. 5
All hail the Chanel gods— Chanel No. 5 is considered the classic fragrance for women. From references of the perfume in pop culture, and the iconic Marilyn Monroe being notorious for flaunting it, a girl can't go wrong wearing this on a night around town. The now and forever fragrance. The ultimate in femininity. An elegant, luxurious spray closest in strength and character to the parfum form.
This fragrance can be purchased here!
Sauvage – Dior
Dior is another brand known for its timeless scents that transcend each generations. Dior fragrances have been produced in Grasse since the perfume's conception. This particular model, Sauvage, is a radically fresh composition that is raw and noble all at once. Natural ingredients prevail as radiant top notes burst with the juicy freshness of Reggio di Calabria bergamot.
This fragrance can be purchase here!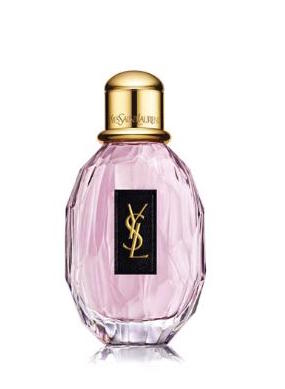 Prada Eau de Parfum
This oriental amber scent begins with citrus notes of bergamot, orange, bitter orange, mandarin flower, and mimosa. Mid notes of rose, schinus molle, peru balsam, patchouli, and raspberry give way to reveal rich base notes of sandalwood, labdanum, tonka bean, vanilla, amber and musk.
This fragrance can be purchased here!
Parisienne
Inspired by the Parisian female persona, this fragrance is the latest hit fragrance by Yves Sant Laurent. Although the woman it appeals to isn't native to Paris, she still calls it home. Parisienne is the fragrance of ultra-femininity and sensuality, built with notes of blackberry, damask rose, and sandalwood. The grand floral with a woody structure is luminous even in its mystery.
This fragrance can be purchased here!
I hope you enjoyed these 4 Popular French Fragrances and Their Origins. If you are looking to learn more French language and culture, make sure to sign up for our new Online Classes at JP Linguistics! Don't forget to tell your friends about Frenchie Fridays so they can receive fun French stories delivered directly to their inboxes - they can sign up HERE. Merci et à bientôt!
Photo credit by Patrick Blaise - Pixabay, Wikipedia and Terrance Sterling